Two CAMS facilities, Calhoun Power and Lincoln Generating Station are recognized leaders in the safety arena. Both sites are Voluntary Protection Program (VPP) Star sites.
Calhoun Power Company, LLC is a 688-MW dual-fuel simple-cycle generation facility located in Eastaboga, Ala. The plant's four GE 7FA gas turbine engines generate enough electricity to power over 500,000 homes in the region. The plant is owned by Harbert Power Fund V, LLC and had been operated by CAMS since 2016.
The Lincoln Generating Facility is a 656-MW natural gas‐fired simple‐cycle facility located southeast of Manhattan, Ill. The plant includes eight GE 7EA Gas Turbines, four of which have black start capability. The plant is owned by Eastern Generation, LLC and has been operated by CAMS since 2016.
As VPP sites, the Calhoun and Lincoln management teams, site staff, and OSHA work together to prevent fatalities, injuries, and illnesses. A tailored system is implemented that incorporates the key elements of the VPP program:
Management Leadership and Employee Involvement
Work Site Analysis
Hazard Prevention and Control
Health and Safety Training
To participate, a formal application to OSHA is required, followed by a rigorous onsite evaluation by a team of safety and health professionals. VPP participants are re-evaluated every three to five years to remain in the program.
Calhoun Power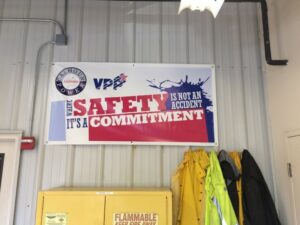 Mike Carter, Plant Manager at Calhoun Power shares his team's safety strategies:
Management Leadership and Employee Involvement
Buy-in. All site members are involved and understand the importance of buy-in to the safety culture and expectation of safety at all levels. If anyone has an idea to improve a process, the team discusses and decides the next step as a group. If there is a way to improve a task or process, we will do it. Tasks need solid procedures in place. During site orientation, we mention our accomplishment of being a VPP Star site and enforce the need to work safely for the contractors.
Work Site Analysis
We are constantly looking to ensure no hidden hazards are in our work area. We discuss daily jobs at each morning meeting and remind each other of the safety hazards for the task to ensure the job will get done safely. We read a portion of the CAMS safety manual at every morning meeting to keep safety fresh on our minds.
Hazard Prevention and Control
We are required to conduct one safety meeting a month, instead, we do one each Wednesday. Part of this includes a Hazard Hunt, during which each individual walks the site specifically looking for any hazards and taking action to mitigate potentially unsafe conditions.
Safety and Health Training
As with all sites, we are required to conduct specific training, either computer based (GPi), or hands on. Tracking is critical to ensure all personnel receive the training required to maintain the knowledge required for proficiency at daily tasks as well as emergencies. We have emergency procedures for any critical scenario we can think of.
Lincoln Generating Facility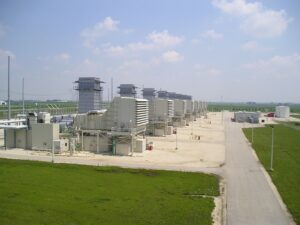 The Lincoln Generating Facility program fundamentals include:
Management Leadership and Employee Involvement
Management recognizes and accepts the responsibility in leading all employees in maintaining a safe culture at Lincoln Generating Facility. Responsibility for safety and health at Lincoln Generating Facility is assigned in a variety of ways.
All employees are responsible for the maintenance, housekeeping, and safety of the site. Therefore to assist in the drive of these responsibilities, the site utilizes not only the Safety Committee to lead in these efforts, but also the Safety Promotion and Recognition Program to reward employees for their efforts. Safety is as much an individual's responsibility as it is a management or company responsibility. All Lincoln Generating Facility employees are expected to leave work in the same physical condition as when they arrived. Therefore, these same employees are responsible to assist in maintaining and improving the sites safety and health programs and are expected to set a safe example for all employees' contractors and visitors.
Worksite Analysis
All job descriptions are developed with safety accountabilities as a primary component. Safety procedures indicate positions that are responsible for activities and/or documentation.
Job Safety Analysis (JSAs) are developed by the job experts/employees in each area to identify position responsibilities for safe practices. General employee safety responsibilities are stated in the new employee orientation and weekly/ annual safety training at the site. Safety goals and objectives are part of every employee's performance review.
Health & Safety Performance Goals & Training
Lincoln Generating Facility annually sets safety and performance goals for the site. This allows the site to prioritize its Safety, Health, and Training issues and enhances the recognition of safety, as a long-term commitment. All employees are held accountable in reaching performance goals and objectives. These goals and objectives are measured through the employees' annual performance review process. The annual reviews include areas of safety, quality and productivity.  Safety, Health, and Training programs and goals are communicated on a regular basis with the employees via new employee orientations, daily meetings, postings and employee evaluations.
---
Do you need a health and safety assessment? Safety training? Support for Management of Change processes? Learn more about our health and safety services or contact one of our experts today. contact-ancillary-services