Decades of experience. Measurable impact.
Adding tangible value since 2007

8.2M
Tons of CO2 reduced by offsetting emissions

28%
Average annual MW increase in renewables involvement

75
Industry Best Practice Awards since 2013
Creative implementers. Pragmatic problem solvers.
If there is an opportunity, we recognize and capitalize on it. If there is a problem, we identify and solve it.
Energy is a complex industry, and we are not intimidated by the challenges it presents. Our team of talented, enthusiastic and dedicated industry veterans thrive when confronted with difficult problems that demand new, creative solutions.
For nearly 15 years, CAMS has managed energy assets that provide reliable fuel, transportation, and power to grids throughout the U.S. and Europe. Whether you're seeking a partner to manage several Environment, Social, and Governance (ESG) issues, or a specific challenge like reducing greenhouse gas emissions, our experienced team can help you achieve sustainable, value-driven results.
1,800
---
Number of employees
319
---
Due diligence projects
Supporting the entire life cycle of your asset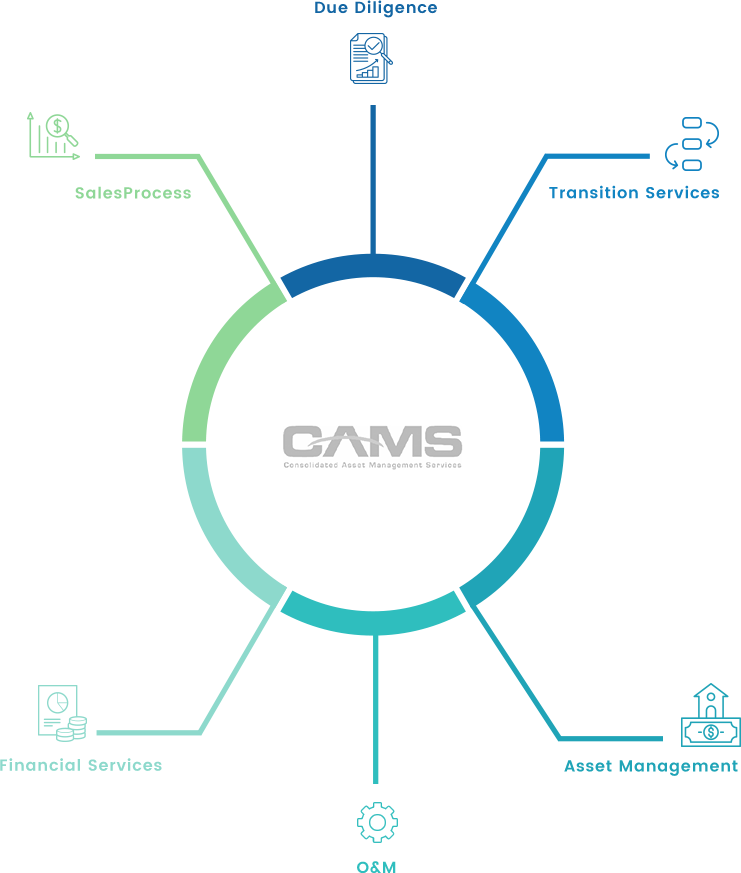 Transaction life cycle
CAMS supports every phase of your investment
Deep dives for commercial, operational, EH&S and regulatory activities.
Developing and implementing programs to ensure a smooth handoff.
Providing project leadership, planning and budget and compliance services
Advising on staffing, procurement, and care, custody and control.
Deploying our accounting and finance experts to support your assets.
Orchestrating pre-sale activities to ensure a successful transaction.
Our Values
The commitments that guide our work
Shared Vision
We collaboratively develop tailored, sustainable solutions, provide ethical leadership focused on your success, and treat your assets as our own.
Value Creation
We proactively reduce costs, increase efficiencies and deliver results. We consistently implement industry-standard best practices and are relentless in our commitment to quality and sustainability.
EHS&R
We maintain safe and reliable assets and are committed to the health and safety of our employees, customers and communities. We do things the right way, the first time, every time.
Entrepreneurship
We encourage ideas and innovate with integrity to improve performance.
Community
We enrich the communities in which we live and work, and prioritize sustainable business practices, day-in and day-out.
Our History
Track Record of Growth
2007
CAMS Established
CAMS is founded with an initial focus on power generation operations and maintenance, accounting, finance and commercial services. It has since expanded to provide fully integrated, comprehensive services for a complete set of infrastructure investors.
CAMS Acquires Bluewire Technology
Full-service IT support and consulting firm Bluewire completes a landmark project for CAMS' first power generation facilities. Later that year, CAMS acquires the company, adding information technology to its business services portfolio.
2008
CAMS Introduces E&P Services
As CAMS' clients diversify into the upstream oil and gas industry, CAMS adds experienced engineering as well as operations and accounting personnel to support the growing industry. CAMS E&P provides operations and accounting services to a growing portfolio of oil and gas asset owners (private equity, financial institutions, and lien holders) located in all major U.S. basins.
2011
Deconstruction and Remediation Services
A client engages CAMS to find a solution for two underperforming power generation assets. CAMS proposes and implements a plan to deconstruct the assets, sell reusable scrap, and perform environmental remediation to repurpose the land for sale and future redevelopment. This approach is so successful that CAMS launches a business group focused on acquiring and repurposing similar obsolete assets. That business evolves into our current model, in which CAMS deconstructs obsolete power plants and redevelops them for renewable power generation.
2012
CAMS Adds Midstream and Trident
The creation of CAMS Midstream adds the third leg to the stool, complementing the established Power and E&P divisions. CAMS also acquires and builds an affiliate company, CAMS Trident, to provide corrosion engineering and pipeline integrity services. CAMS Midstream has grown significantly, broadening its scope of services and adding employees with decades of industry experience.
2013
CAMS Signs First Renewable Energy Contract
CAMS' first renewable energy asset management contract is for a utility-scale wind project in Texas. Other projects quickly follow, including utility-scale solar projects and wind project balance-of-plant O&M services in 2017. To date, CAMS has been involved in the management and operations of 42 wind and solar projects totaling 3,500 MWs.
eSPARC Established
eSPARC, an affiliate of CAMS, provides full-service environmental consulting services. eSPARC leverages years of business, legal, technical, operational, and environmental permitting experience to help energy and industrial facilities meet environmental challenges and requirements. Capabilities include due diligence, coal ash management, remediation and redevelopment support, strategic regulatory reviews for capital projects, complex air permit application development, in-house air dispersion modeling expertise, waste and wastewater management, environmental plan development, and compliance support services.
2015
CAMS Develops Client ESG Management Program
eSPARC designs a tailored ESG Management Program for a $16.5 billion private equity firm with investments in the midstream, power and upstream sectors. The program incorporates quantitative, sector-specific ESG metrics to monitor individual investment holdings' performance and highlighted achievements through qualitative case study reviews. A strawman program is presented during the baseline year of program development, with implementation during the second year. CAMS also provides ongoing support for Annual General Meeting materials and Annual ESG Reports.
2017
CAMS Awarded O&M Services for 5.2 GW Portfolio
CAMS is awarded O&M services for a large portfolio formerly owned by American Electric Power. The portfolio includes four power plants in the Midwest, including one of the largest coal plants in the U.S. – the General James M. Gavin Power Plant. The Gavin Power Plant is capable of powering two million homes.
2018
CAMS Supports Publicly Traded E&P Trust
CAMS is awarded a contract to provide asset management for a publicly traded trust, holding interests in over 7,000 oil and gas positions in Texas, New Mexico, and Louisiana. CAMS provides all accounting and operations to include direct liaison with Trustee and supports the issuance of public filings.
2019
CAMS Introduces eTRAC
CAMS enters into its first contract for eTRAC, an in-house developed software-as-a-service platform. The platform combines real-time market and project performance data to provide immediate, project-specific financial and operational performance information. eTRAC is particularly valuable to project owners that seek to optimize assets by participating in day-ahead bid/offer strategies. The first client is a large private equity firm.
CAMS Awarded O&M and Asset Management for Large Midstream Portfolios
CAMS Midstream begins operating and providing asset management services for several Third Coast Midstream (formerly American Midstream) energy assets. The portfolio includes approximately 260 miles of natural gas gathering pipelines with 40,450 horsepower of compression in the Eagle Ford. At the beginning of 2020, seven regulated natural gas transmission systems are added to the portfolio. In the latter half of 2020, another six gas transmission systems are added. Total capacity exceeds 1.6 Bcf per day and covers approximately 2,300 miles across Louisiana, Alabama, Mississippi, Tennessee, Arkansas, Oklahoma, and Missouri.
2020
CAMS Supports Distressed E&P Assets
CAMS is appointed by new management to provide asset management services for offshore assets of a private oil and gas company focused on exploration and development in South Louisiana and the Gulf of Mexico Shelf. CAMS supports the Chief Restructuring Officer, bond holders and the board of directors as the company navigates the restructuring process and assesses a strategic exit.
2021
CAMS Acquires Solar O&M Company
CAMS continues to expand its renewable energy footprint by acquiring the U.S. solar operations and maintenance company Belectric. Its portfolio includes 191 operating sites in 11 states.
CAMS Establishes Battery Partnership
CAMS establishes a partnership with FlexGen, a leading battery integrator and storage solutions provider, to deliver the first comprehensive services offering to the battery energy storage market in the U.S. The partnership embeds O&M considerations in the design of the facility to ensure the most cost-effective project for owners of both greenfield and brownfield redevelopment projects.
CAMS Adds Battery Storage
A utility-scale independent power producer (IPP) backed by leading energy investors, awards CAMS the O&M service contract for 10 utility-scale battery storage projects in Texas, subject to the final execution of the contract. It represents one of the largest third-party service contracts at the time of signing.
CAMS Creates Renewable Services
CAMS establishes a new company, CAMS Renewables Services ("CRS"). CRS serves as a point of aggregation and focus for the growing suite of CAMS' renewable energy-related services to continue to best meet our clients' evolving needs.
2022
CAMS Establishes Strategic Control Services
CAMS is offering next generation services from its new remote operations center located in Houston, Texas. We provide fully remote, real-time control of power generation assets.
Winner of 79 Best Practice Awards
Since 2013, CAMS has been consistently recognized for its operational commitment to best-in-class safety practices and performance by earning 79 Combined Cycle Journal (CCJ) Best Practice Awards. These awards highlight the most outstanding generating facilities in the power industry.
CAMS Renames Its Renewable Energy Services Group
CAMS renames its Renewable Energy Services group to CAMS Energy Transition Services (CAMS ETS) to reflect expanded offerings to include development and advisory services. CAMS has been a leading service provider in the renewable energy space for many years and this step was a logical progression in its service offerings.
2007
CAMS Established
CAMS Acquires Bluewire Technology
2008
CAMS Introduces E&P Services
2011
Deconstruction and Remediation Services
2012
CAMS Adds Midstream and Trident
2013
CAMS Signs First Renewable Energy Contract
eSPARC Established
2015
CAMS Develops Client ESG Management Program
2017
CAMS Awarded O&M Services for 5.2 GW Portfolio
2018
CAMS Supports Publicly Traded E&P Trust
2019
CAMS Introduces eTRAC
CAMS Awarded O&M and Asset Management for Large Midstream Portfolios
2020
CAMS Supports Distressed E&P Assets
2021
CAMS Acquires Solar O&M Company
CAMS Establishes Battery Partnership
CAMS Adds Battery Storage
CAMS Creates Renewable Services
2022
CAMS Establishes Strategic Control Services
Winner of 79 Best Practice Awards
CAMS Renames Its Renewable Energy Services Group
Our Leadership Team
Proven experience across the energy value chain
Our experts know energy. CAMS is led by a veteran team of creative implementers and pragmatic problem solvers with decades of experience identifying and capitalizing on opportunities for the benefit of our clients. Our passion for the industry is unrivaled, and we are motivated by the challenges it presents.