HOUSTON – Combined Cycle Journal (CCJ) held its 11th annual Best Practices Awards earlier this year recognizing Consolidated Asset Management Services (CAMS) with one Best of the Best Practices Award and nine other Best Practices Awards. This year, CAMS tied with another operator for the most awards.
CCJ has established nine award categories and are judged by a panel of operations professionals every calendar year. They consider which improvement offers the greatest benefit to the industry given today's demanding goals of improving performance, reliability/ availability, safety and reducing costs, while satisfying the regulatory requirements promulgated by EPA, NERC, OSHA, regional grids, etc.
"This is a great honor for CAMS and all of our dedicated employees to be recognized again as an industry leader in turbine maintenance and operations," said CAMS CEO Joseph Sutton. CAMS walked away with awards in the following categories: Performance Improvements and Operations and Maintenance. While operated by CAMS, SEPG was awarded nine Best Practices Awards.
Below is a detailed account of the awards CAMS received:
Waterside Power Holdings, LLC
Performance Improvement
The facility upgraded the HMI to enable automatic start of its three units. Since the HMI automation the plant has responded to 29 fast start emergency dispatches without a failure.
Effingham County Power
Operations and Maintenance
Root-cause analysis of bearing failures in the plant's ammonia blowers led to system modifications along with maintenance and operational alterations. The site has not experienced such a bearing failure since implementation.
Plant staff developed and implemented procedures to cost-effectively and efficiently undertake the in-house calibration of almost 400 instruments at the facility.
Effingham equipped combustion turbine thermocouples with a new insulation design ensuring higher reliability and ease of maintenance on instrumentation prone to premature failure.
Problematic and unreliable process sample lines from the plant's HRSGs were replaced with a new sampling system that is more accessible to personnel and easier to maintain.
Monroe Power, LLC
Performance Improvement
Control system logic modifications for water injection valves to control NOx eliminated inadvertent unit trips, increased equipment life, and conserved water.
Modifications to cable trenches in the plant's switchyard led to the prevention of any accidental damage to equipment and enhanced personnel safety by eliminating trip hazards.
Mid-Georgia Cogen
Performance Improvement
Implemented control logic changes to automatically control the plant's ammonia flow control valve to effectively maintain NOx emissions within permit limits to ensure compliance during transient operation.
Walton County Power
Performance Improvement
A fuel-gas piping modification and addition of automated valve assembly eliminated unit trips during shutdown and improved operator safety and efficiency.
Washington County Power
Operations and Maintenance
Test switches installed on the CEMS control panel enables operators to conduct monthly tests quickly and safely without disrupting the plant's electrical system.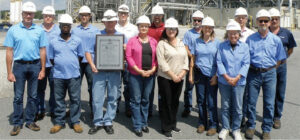 Effingham County Power personnel, a proud group, didn't want to miss this photo op. The CAMS-operated plant has received more Best of the Best awards than any other combined cycle in the history of the Best Practices program. Back row (l to r) Mark Gunter, senior CT technician; Andrew Fenstermaker, CT technician II; Michael Sears Jr, CT technician II; Nick Bohl, production manager; Bill Beahm, production team leader; Eric Garrett, senior VP operations (East); and Alan Sparks, production team leader. Front row: Ken Earl, plant manager; Byron Sewell, senior CT technician; Bob Kulbacki, production team leader; Jobie Seward, EHS specialist; Lori Nesbit, field coordinator; Cheryl Hamilton, senior CT technician; Sue Tuten, accountant; and Don Johnson, production team leader.
About CAMS
Established in 2007, Consolidated Asset Management Services (CAMS) is a privately held company, headquartered in Houston, Texas. CAMS provides quality, competitively priced management, commercial and operations services to the Power Generation, Exploration & Production and Midstream sectors of the Energy industry. CAMS emphasis is on providing clients with significant bottom line results and demonstrated value creation, all while operating and maintaining facilities safely, efficiently and in an environmentally friendly manner. CAMS comprehensive range of services includes: Asset Management, Operations and Maintenance, Construction Management, Commissioning and Start-Up, Engineering, Repair and Field Support, Commercial Origination and Optimization, and Project Development.