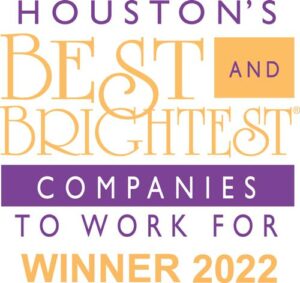 HOUSTON – Consolidated Asset Management Services (CAMS), a fully-integrated service provider for owners of energy infrastructure assets, has been named as one of Houston's Best and Brightest Companies to Work For® by the National Association for Business Resources (NABR).
This year's Best and Brightest Companies to Work For® were evaluated by an independent research firm, which considered several key measures including compensation, benefits and employee solutions, wellness and wellbeing solutions, employee enrichment, engagement and retention, employee education and development, recruitment and selection, employee achievement and recognition, communication and shared vision, diversity, equity and inclusion, work-life balance, community initiatives and corporate responsibility, and leadership, strategy and company performance.
"We are thrilled to be selected to the Best and Brightest Companies to Work For® list," said CEO and Founder Joseph W. Sutton. "Our highly experienced team is CAMS' greatest asset, and we are grateful for our hardworking employees who are, quite simply, the best at what they do. This recognition reflects our talented and dedicated workforce who take pride in delivering innovative ideas and value to our clients."
With over 20 years of experience conducting the Best and Brightest competitions, the NABR has identified numerous best human resource practices and provided benchmarking for companies that continue to be leaders in employment standards.
"The Best and Brightest is a powerful community of elite leaders who share ideas and practices and have proven they are employers of choice," said Jennifer Kluge, President, and CEO, Best and Brightest Programs. "Best and Brightest winning companies have also been a voice for important actions in creating a sustainable culture that works, ensuring the wellbeing of their employees come first."
CAMS will be honored for their award during the virtual Illuminate Business Summit week March 21-24, 2022. The national Best and Brightest Companies to Work For® program also recognizes top employers in Atlanta, Boston, Chicago, Dallas, Detroit, Grand Rapids, Houston, Milwaukee, San Diego, San Francisco, Miami, New York, Charlotte, Denver, Seattle, Nashville and Portland. To learn more about the program, visit www.thebestandbrightest.com.