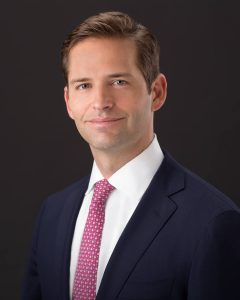 HOUSTON – (BUSINESS WIRE) – Consolidated Asset Management Services (CAMS), a fully-integrated service provider for owners of energy infrastructure assets, is proud to announce that Brian Ivany was recognized by Hart Energy as one of its "Impactful Veterans in Energy." The program highlights leadership and contributions made in the energy industry by military veterans.
Determined to make a difference for his country, Ivany decided to join the army in the aftermath of the 9/11 attacks.
"In the wake of the terrorist attacks of Sept. 11, 2001, I felt compelled to serve our nation," he said. "At the time, I was a junior in high school. I decided to attend the United States Military Academy at West Point. It enabled me to serve my country upon graduation and provided me the opportunity to learn from many of our nation's most talented soldiers."
Ivany graduated from the United States Military Academy at West Point with a degree in systems engineering. He served five years in the Army, deployed twice to Iraq in support of Operation Iraqi Freedom and Operation New Dawn, and earned a Bronze Star, Ranger and Airborne Tabs. Upon returning to the U.S., Ivany earned his MBA from Georgetown University.
In 2014, Ivany began his career at CAMS as a financial associate. He was also manager of the CAMS business development team and served a short stint as vice president of CAMS Exploration & Production (E&P) before being promoted to president.
Ivany currently leads CAMS' Renewable Services. He spearheaded the company's expansion into the battery energy storage systems sector, securing operations and maintenance agreements for 300 MW of storage capacity in ERCOT. He has supported the acquisitions and divestitures of numerous energy assets and service companies on behalf of several private-equity-backed portfolio companies and their capital sponsors.
Outside of CAMS, Ivany serves on the board of directors for Renewable Energy Alliance Houston (REAL Houston) and was a board member for several local non-profits including Combined Arms, Young Catholic Professionals and the West Point Alumni Association. According to Ivany, Combined Arms is a veteran-focused non-profit organization headquartered in Houston that works to accelerate the transition from military to civilian life for members of all branches of the military.
Ivany was nominated by CAMS as distinguishing himself through leadership, exceptional passion for problem-solving, and as a trailblazer for his potential impact on the future of the industry.
In lieu of an in-person event, Hart Energy celebrates the selected veterans with an "Impactful Veterans in Energy" microsite, which can be viewed here. Additionally, all honorees are recognized online and in the January 2022 issue of Oil and Gas Investor.
A veteran-led company, CAMS is committed to supporting and providing opportunities for former members of the armed forces. In fact, veterans comprise over 40% of our workforce. We recognize their unrivalled experience, skills, and leadership abilities and appreciate their immense contributions to delivering creative solutions to our clients.
Read Hart Energy's in-depth profile on Ivany here.